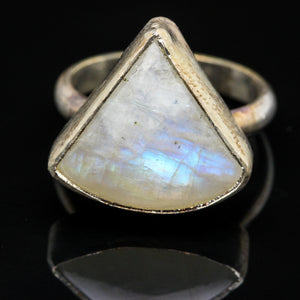 This stunning ring is hand fabricated in all sterling silver and features Rainbow Moonstone. 


Materials Used:
Metal: Sterling Silver
Size: 6
Stone: Rainbow Moonstone
Named for its moon-like sheen, Moonstone is a Feldspar mineral exhibiting a soft, watery opaqueness and a silvery-white reflection called chatoyancy that moves as a line across the surface as light varies. Moonstone occurs in delicate shades of peach, blue, gray, white and a prismatic variety known as Rainbow Moonstone.
Rainbow Moonstone is the stone aligned to the  divine goddess and to nature.  It was said to be the "travelers stone" protecting one at night.  
Moonstone is used to open the heart space it is one of the stones of true love. 
It a powerful stone that can  help with self expression and inspiration. 
As always I like to say that these metaphysical properties are just fun things to think about.  I believe The real power of these pieces comes from you.  All of my jewelry is made to be reminders of what we want in life.  We can set any intention into these pieces and when we touch or see them, we think about the meaning. I believe this is where the real magic lies. 
LUCID ARTIFACTS GUARANTEE
Shop with ZERO risk with our 30 day money back guarantee!!   If for any reason you are not satisfied with our products just send it back and we will make it right.  
We sincerely believe that a good shopping experience is what makes our customers return to us. We want you to be happy and satisfied with Lucid Artifacts and your purchases with us. Should you have any inquiries regarding your purchases, please feel free contact us at Chris@lucidartifacts.com and we will get back to you right away!  Happy Shopping!