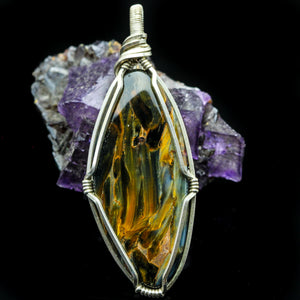 This necklace features a pietersite cabochon with  the best quality pietersite I have ever found.  It is such a stunning specimen.  It is hand wrapped in all sterling silver wire.
Materials Used:
Metal: Sterling Silver
Stone: Pietersite
Size of stone: Approx 2 inch tall and 3/4 inch wide
Pietersite is a variety of Quartz, composed naturally of Tiger's Eye, Hawk's Eye and Jasper, and is characterized by an incredible chatoyancy and brilliance of life within the stone. It was a recent discovery by Sid Pieters in Windhoek, Namibia,
Known as the Tempest Stone, its highly charged energy is almost tangible. Just as lightning clears the air and makes all things new, Pietersite discharges negative energies and emotional turmoil, and cleanses the aura, restoring it to calm.
Pietersite is an excellent ally for those who are stuck or unable to make progress, It can help to clear stagnant energies, habits and life patterns, and reveals new directions for one's life. It also lends the will to take action toward those new goals.
 Pietersite can also link the everyday consciousness to the spiritual, reminding us we are spiritual beings on a human journey. This stone dispels illusion and helps one see the beauty of the soul, and to recognize the brotherhood of humanity.
Pietersite is a powerful protection stone, especially against the elements. It calms nervous people and animals during storm making it a major meditation stone used extensively to calm, de-stress, and soothe.
As always I like to say that these metaphysical properties are just fun things to think about.  I believe The real power of these pieces comes from you.  All of my jewelry is made to be reminders of what we want in life.  We can set any intention into these pieces and when we touch or see them, we think about the meaning. I believe this is where the real magic lies. 
OUR GUARANTEE
Shop with ZERO risk with our 30 day money back guarantee!!   If for any reason you are not satisfied with our products just send it back and we will make it right.  
We sincerely believe that a good shopping experience is what makes our customers return to us. We want you to be happy and satisfied with Lucid Artifacts and your purchases with us. Should you have any inquiries regarding your purchases, please feel free contact us at Chris@lucidartifacts.com and we will get back to you right away!  Happy Shopping!