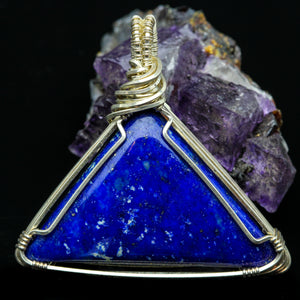 This powerful necklace is hand in all sterling silver and features a stunning piece of Lapis Lazuli.
Materials Used:
Metal: Sterling Silver
Stone: Lapis Lazuli 
Size: Approx 1.5 inches high by 2 inch wide
 Lapis Lazuli is one of the most sought after stones in use since man's history began. Its deep, celestial blue remains the symbol of royalty and honor, gods and power, spirit and vision. It is a universal symbol of wisdom and truth.
Lapis is an excellent stone for executives, journalists, and psychologists, stimulating wisdom and good judgment in the practical world. As a stone of truth, Lapis encourages honesty of the spirit, and in the spoken and written word. Lazuli is a crystal of truth in all aspects. It reveals inner truth, and promotes self-awareness and the acceptance of that knowledge.
It is also a stone of friendship and brings harmony in relationships.   Lapis quickly releases stress, allowing for peace and serenity. Placed over the third eye, Lapis expands awareness and conscious attunement to the intuitive self, stimulating enlightenment and enhancing dream work.
It permits spiritual journeying, and tapping into personal and spiritual power. Lapis provides a connection with dream forces that are working to both guide and counsel during altered states.  
Now comes the real question.........
 Do stones really have energy, or is it all make believe? 
I get this question all the time. The truth is, it all comes down to what you believe. 
If you believe these stones or crystals can change your life, then they will, and if you don't then they won't. What it really comes down to is mindset. Michael Merzenich, a neuroscience Professor at UCSF, says that every moment we make choices through our thoughts, that affect our lives in a very real sense. What Michael is referring to is neuroplasticity, the brain's response to the way we see our world, and these choices are the concrete that shapes our lives.
The Dalai Lama himself speculated that "pure thought would change the brain's activity, its circuits or even its structure" and was proven correct by Richard Davidson, Ph.D. He proved that "everything the mind does has a physical [mirror]". Change your thoughts, change your life.  
Your mindset is powerful. Ask any professional athlete, music superstar, or entrepreneur.    Michael Jordan, Oprah, and Bill Gates all attribute their success to keeping a positive growth mindset.

My jewelry is made from the finest natural stones from the earth and they are all personally sourced from around the world. As I handcraft each piece, I make sure to set intentions into each one. These intentions are simply waiting to be activated by your mind. Each time you touch or see your jewelry, you have the chance to ignite the intention and unlock it's potential. These pieces are token reminders of what you want to bring into your life. Your mind is more powerful than you imagine. While there is endless information about the legends of each stone, the real power comes from you. You bring change and goodness into your life. Start living up to your full potential, with these intention talismans. 
OUR GUARANTEE

We know online shopping can be a bit intimidating, but we want to let you know that there is absolutely zero risk of buying and trying things out with LucidArtifacts.com.  If you have any dissatisfaction with the products, don't worry, we will make it right. 
We sincerely believe that superior products, a good shopping experience and amazing customer service is what makes our customers return to us.  At Lucid Artifacts we want you to be 100% satisfied with your purchase.  Should you have any questions at all, you can reach me by email: Chris@Lucidartifacts.com or by text 919-449-6965!  We guarantee we will do our best to resolve any issue as soon as we can.