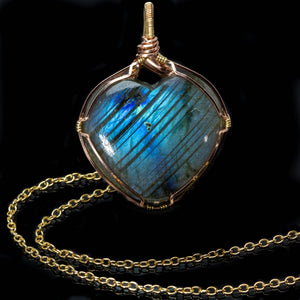 *Each stone is unique so the color may vary slightly, but each one will be just as amazing as the one in the picture!
This Labradorite pendant is hand-wrapped with love in 14k goldfill wire. This piece is fully charged and waiting for you!
Labradorite ~
Chakras = All
Psychic Protection · Energies of  Sun and  Moon ·  Amplifies healing   ·  Increase Synchronicity · Promotes Innovations ·  Awakens Intuition  
Known as the Magicians stone, labradorite can amplify the effects of healing prayers and affirmations. It can also give the wearer increased chances of synchronicities.
Labradorite is a powerful stone, considered to be a stone of transformation.   It is said to aid in the recall of mystical, magical experiences and to increase ones intuition and aid in psychic development.  Labradorite is  also used for protection, as it discourages others from tapping into your energy and draining you.
Labradorite  is used by Shamans for dream recall, and working with the waking dream in your everyday life. It is widely thought to provide clarity and insight into your destiny, as well as being able to attract success to you.
My belief on stones is that they are reminders of what we want to bring into our lives. Our minds are very powerful and I believe that what we think about comes into our reality. So I set intentions into my stones and so that every time I touch or see them, I think about the intention, thus bringing it into my existence!
OUR GUARANTEE
Shop with ZERO risk with our 30 day money back guarantee!!   If for any reason you are not satisfied with our products just send it back and we will make it right.  
We sincerely believe that a good shopping experience is what makes our customers return to us. We want you to be happy and satisfied with Lucid Artifacts and your purchases with us. Should you have any inquiries regarding your purchases, please feel free contact us at Chris@lucidartifacts.com and we will get back to you right away!  Happy Shopping!