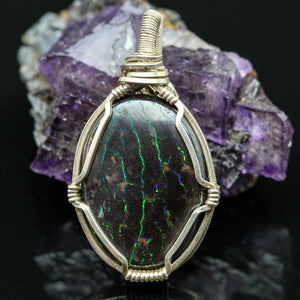 This small but powerful necklace is hand wrapped in all sterling silver and features a beautiful piece of Boulder Opal. 


Materials Used:
Metal: Sterling Silver
Stone: Australian Boulder Opal

Size: Approx 1 1/4 inch tall and 3/4 inch wide
Boulder Opal is an Opal that forms within voids or fractures of its host rock, usually ironstone or sandstone.  It is only found in Queensland, Australia.
Boulder Opals carry not only warm Earth energies, but also the illuminating energy of Fire. They assist practical people in developing their spiritual sides, and help spiritually minded people succeed in the everyday world.
Opals promote a sense of calm security, easing stress and depression, and encouraging one to stop brooding in order to better direct one's thoughts and energies.  lt is a wonderfully supportive stone, dedicated to healing and strengthening the emotional body for those willing to peer honestly into the true self. 
As always I like to say that these metaphysical properties are just fun things to think about.  I believe The real power of these pieces comes from you.  All of my jewelry is made to be reminders of what we want in life.  We can set any intention into these pieces and when we touch or see them, we think about the meaning. I believe this is where the real magic lies. 
 OUR GUARANTEE
Shop with ZERO risk with our 30 day money back guarantee!!   If for any reason you are not satisfied with our products just send it back and we will make it right.  
We sincerely believe that a good shopping experience is what makes our customers return to us. We want you to be happy and satisfied with Lucid Artifacts and your purchases with us. Should you have any inquiries regarding your purchases, please feel free contact us at Chris@lucidartifacts.com and we will get back to you right away!  Happy Shopping!