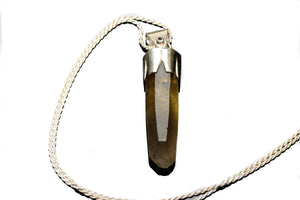 This powerful Citrine and Amethyst pendant is hand cast in all sterling silver and features natural Zambian Citrine and and double sided bail with faceted amethyst on both sides.
Materials Used:
Metal: Sterling Silver
Size: Approx 2 inch tall and 1 inch at its widest
Stone: Citrine, Amethyst

Citrine is called a Stone of Manifestation and Success and has been known to bring good fortune and happiness into one's life.  Natural Citrine does not hold or accumulate negative energy, but rather transmutes, dissipates, and grounds it, making it extremely protective for the environment.

Citrine opens the higher mind to accept joy in one's life, releasing anger and negative feelings, deep-seated fears and destructive tendencies. Citrine reduces the sensitivity to criticism and inspires creativity and self-expression. This is an excellent crystal for those who are overly sensitive and extremely vulnerable to outside energies and influences.
Citrine is said to enhance confidence and mental clarity.  It is also used for letting go of outmoded beliefs, fears, thoughts and desires that do not serve us.  
Amethyst brings a calm and courageous energy.  It is associated with the third eye and the crown chakras.  This stone is used as protection for travelers and is associated with Angels.
It is an excellent stone for meditation or dream work and has also been used to help ease the pain of grief in our human existence.   Amethyst has often been called a stone of prosperity and abundance.  It can also be beneficial for anyone overcoming addictions of all kind.
Now comes the real question.........
 Do stones really have energy, or is it all make believe? 
I get this question all the time. The truth is, it all comes down to what you believe. 
If you believe these stones or crystals can change your life, then they will, and if you don't then they won't. What it really comes down to is mindset. Michael Merzenich, a neuroscience Professor at UCSF, says that every moment we make choices through our thoughts, that affect our lives in a very real sense. What Michael is referring to is neuroplasticity, the brain's response to the way we see our world, and these choices are the concrete that shapes our lives.
The Dalai Lama himself speculated that "pure thought would change the brain's activity, its circuits or even its structure" and was proven correct by Richard Davidson, Ph.D. He proved that "everything the mind does has a physical [mirror]". Change your thoughts, change your life.  
Your mindset is powerful. Ask any professional athlete, music superstar, or entrepreneur.    Michael Jordan, Oprah, and Bill Gates all attribute their success to keeping a positive growth mindset.

My jewelry is made from the finest natural stones and they are all personally sourced from around the world. As I handcraft each piece, I make sure to set intentions into each one. These intentions are simply waiting to be activated by your mind. Each time you touch or see your jewelry, you have the chance to ignite the intention and unlock it's potential. These pieces are token reminders of what you want to bring into your life. Your mind is more powerful than you imagine. While there is endless information about the legends of each stone, the real power comes from you. You bring change and goodness into your life. Start living up to your full potential, with these intention talismans. 
 OUR GUARANTEE
Shop with ZERO risk with our 30 day money back guarantee!!   If for any reason you are not satisfied with our products just send it back and we will make it right.  
We sincerely believe that a good shopping experience is what makes our customers return to us. We want you to be happy and satisfied with Lucid Artifacts and your purchases with us. Should you have any inquiries regarding your purchases, please feel free contact us at Chris@lucidartifacts.com and we will get back to you right away!  Happy Shopping!