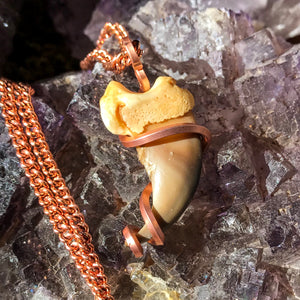 *All Jewelry handmade with love!
This sustainability harvested Bear Claw pendant is wrapped in pure copper!
The bear claw signifies strength and good luck!
OUR GUARANTEE
We sincerely believe that superior products, a good shopping experience and amazing customer service is what makes our customers return to us.  At Lucid Artifacts we want you to be 100% satisfied with your purchase.  Should you have any questions at all, you can reach us by email: Chris@Lucidartifacts.com or by text 919-449-6965!  We guarantee we will do our best to resolve any issue as soon as we can. 
We know online shopping can be a bit intimidating, but we want to let you know that there is absolutely zero risk of buying and trying things out with LucidArtifacts.com.  If you have any dissatisfaction with the products, don't worry, we will make it right.