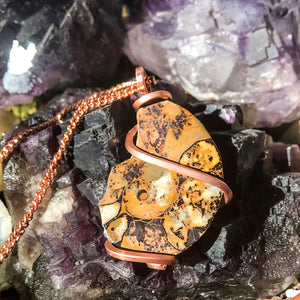 *All Jewelry is handmade with love!
This Ammonite and Copper pendant is wrapped in pure copper!
Ammonite ~
Chakra=Root(1st), Third Eye(6th)
Stimulates Life Force (Chi) · Activates Kundalini · Attract Health and Prosperity · Cleanses Negative Energies · Increase  Vitality · Helps with Depression
Ammonites are a wonderful tool to assist you in moving from the old to the new and to be receptive to the fresh, innovative forces that are available to you. Fossils can assist you in your quest for transition, transformation and personal growth, helping you to understand the process of change.
Ammonites can help you to gain perspective on the present, integrate information about the past or potential future, or aid in reorienting  yourself after entering altered states of consciousness. These fossils are especially useful for past life recall and to contact spirit guides.
My belief on stones is that they are reminders of what we want to bring into our lives. Our minds are very powerful and I believe that what we think about comes into our reality. So I set intentions into my stones and so that every time I touch or see them, I think about the intention, thus bringing it into my existence!
OUR GUARANTEE
We sincerely believe that superior products, a good shopping experience and amazing customer service is what makes our customers return to us.  At Lucid Artifacts we want you to be 100% satisfied with your purchase.  Should you have any questions at all, you can reach us by email: Chris@Lucidartifacts.com or by text 919-449-6965!  We guarantee we will do our best to resolve any issue as soon as we can. 
We know online shopping can be a bit intimidating, but we want to let you know that there is absolutely zero risk of buying and trying things out with LucidArtifacts.com.  If you have any dissatisfaction with the products, don't worry, we will make it right.